Fury and feathered fun for Eva
Published: 18 Sep 2014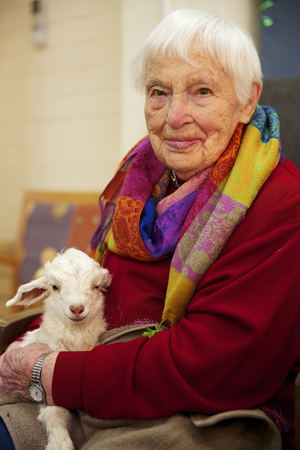 When Eva Hunter recently enjoyed her 100th birthday at Glenrose Court, she was surprised and delighted by some four-legged friends who came to help her celebrate.
An animal lover all her life, Eva was thrilled to have a family party for the milestone and even more excited when the guests included visitors from Hahndorf Farm Barn.
The party-goers included lambs, rabbits, guinea pigs and birds while family members shared memories of the many furry acquaintances Eva had over the years including cats, dogs and kangaroos.
Born in Lincolnshire, England in 1914, she quickly developed a love for all creatures great and small.
After coming to Australia, she became an expert in breeding, training and adjudicating German Shepherds in shows in Adelaide and interstate.
Eva's daughter, Ruth, recalls how she would leave out bowls of water for the kangaroos during a visit to Woomera in 1982.
"I was teaching there at the time and mum stayed with us for a few days," Ruth said. "It was a period of drought, and the roos would come into town to chew on the lawns."
"They were also very thirsty, so mum started putting bowls of water out at night for the roos to drink."
At Glenrose Court, Eva is a regular observer of the many birds that visit the gardens and courtyard.
"You can have a lot of fun with animals, and learn a lot too," Eva explained.
"I think it is important to teach children to learn how to be kind to animals. Our pets have such short lives to spend with us."
"Animals can bring much love and laughter into our lives, and I believe we can become much closer with our fellow human beings because of them."