Welcome to Gaynes Park Manor.
The pinnacle of Residential Aged Care in Adelaide.
Located in Joslin, with limited permanent and respite rooms.
Unlike a traditional aged care facility, Gaynes Park Manor is designed to feel like a warm and inviting apartment, not a hospital. In achieving this, it recently won the 2018 Asia Pacific Eldercare Innovation Award for Best Architecture in Aged Care. Our competitors have also acknowledged that this is the "best nursing home" in Adelaide. While Life Care is thrilled to be recognised in this way, the praise pales in comparison to the pride of creating a wonderful experience for the people living at Gaynes Park Manor.
To view the Gaynes Park Manor residential accommodation pricing schedule, please click here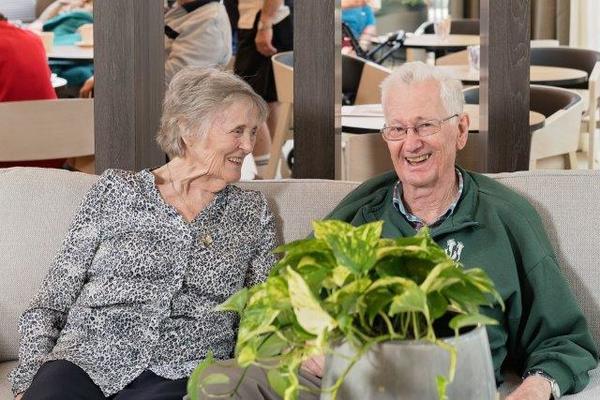 The Pinnacle of Care
We aim to provide people with a wonderful experience, one full of meaning relationships and a purpose to every day. But of course, we must get the basics right first. With generous nurse and carer ratios, the best care technology in the Southern Hemisphere and a consistent and passionate team providing fast response times, the care people receive at Gaynes Park Manor is second to none.
More than just a beautiful environment
Architecturally designed in consultation with Stirling University Dementia Services Development Centre (UK), Gaynes Park Manor is, quite simply, a beautiful space in which to live.
While each room features its own spacious ensuite, Smart TV, and Wi-Fi access, we encourage people to make it their own with the things that make a house a home.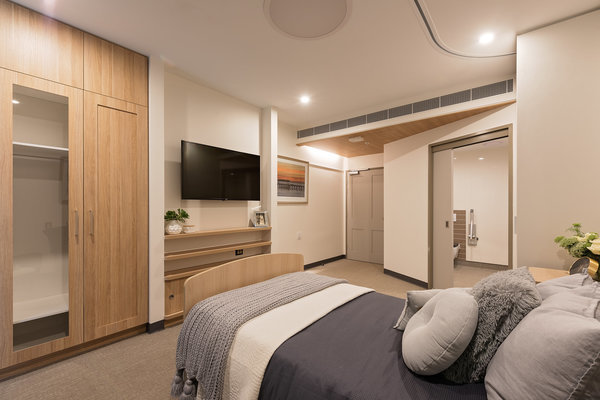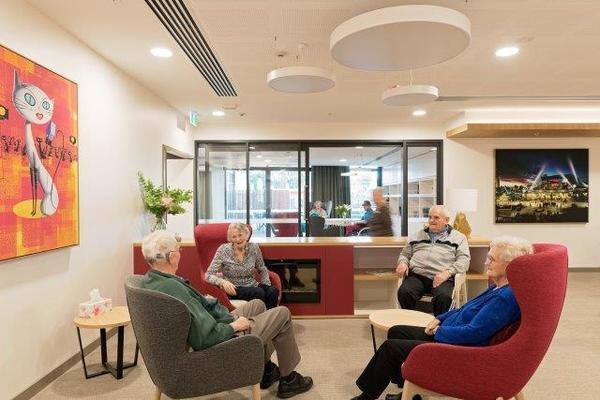 Friendship through community
Gaynes Park Manor utilises a ground-breaking layout designed to eliminate the isolation created by long corridors. Here, people live in small 'communities' of sixteen people centred around an open plan kitchen, dining, lounge, and activity area. Each community member's room opens directly onto this shared space. By dispensing with long corridors, this layout creates the feeling of 'having friends near me.' Each community also has an exclusive and consistent support team who work to make life rich and meaningful.
Technology that builds confidence
One of Gaynes Park Manor's most unique features is Life Care's Call Assist mobile call system - a Southern Hemisphere first. Call Assist gives people the security and confidence to leave their room whenever they like, knowing they can call for support with the press of a button. People are provided with a Call Assist pendant or 'watch' that features a single, easy-to-press button. This button alerts the closest staff member, with the caller's location shown on the staff member's smartphone. The system also eliminates the need for clinical-looking call bells, so rooms feel like home, not like hospital.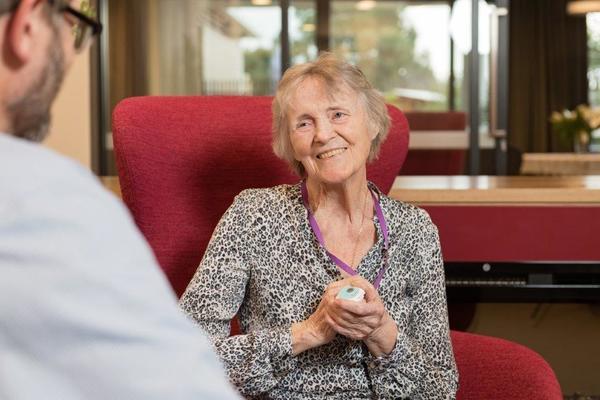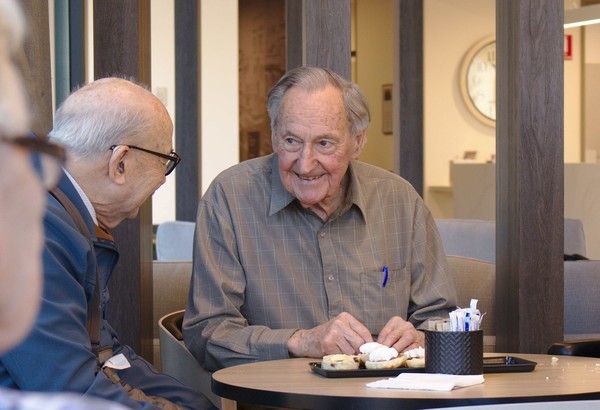 Engagement and activities
Each community's exclusive support team is passionate about making life enjoyable and meaningful, including for people living with dementia. Multiple daily activities (including our famous "Meet your neighbour" morning tea with scones shown here!) provide an opportunity to socialise with friends, and each person is encouraged to contribute to the community by taking on different roles as they wish. And if someone wants to bake a cake, read the paper, learn a new hobby, care for animals or just entertain family or friends, our team can help make it happen.
A great place to visit
The beautiful environment of Gaynes Park Manor helps people, including visitors, to feel at home. The Manor Cafe, situated in the foyer, is a big part of this. It is a relaxing space for people to join their family and friends for coffee and cake or a light meal. With a stunning water feature, comfortable couches and excellent service, it's the ideal place to create some great memories.